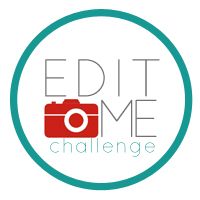 It's time for another
Edit Me Challenge.
Head on over and take a look if you are interested in participating! It's a great link up party where an original image is provided, then everyone takes a go at editing it the way they like. It's pretty amazing to see all the variations!
This weeks image was provided by Kim from
Mom Tried It.
The humble petunia. It's actually my favourite for planting at the front of our house :)
This is my edit using Adobe CS3. Cropped in significantly, flipped the image, added in droplets and ladybug from other images and blended. Adjusted contrast between all layers so they blended well. Desaturated image. Used dry brush filter on a very low intensity, then Gaussian blur on a very low intensity. Burned a few of the darker areas and finally added a touch of noise.
Hope to see you at the
Edit Me Challenge!